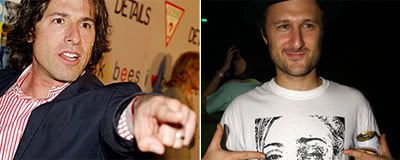 Sam Spiegel, aka Squeak E. Clean, one half of the envelope-pushing quasi hip-hop duo N.A.S.A, is composing the soundtrack to David O. Russell's political satire, "Nailed" according to a one sentence line in a recent Rolling Stone article.

Spiegel is Spike Jonze's younger brother and helped Karen O record some of the music to "Where The Wild Things Are." He also produced the Yeah, Yeah, Yeahs 2006 album Show Your Bones. O. Russell and Spike Jonze are good buddies too -- the "I Heart Huckabees" director handpicked his friend to play a hick soldier in "Three Kings" against the studios wishes.

A source close to the project says "Nailed" is currently "on hold." More on that later. If you like music with a massive mish-mash of artists N.A.S.A's upcoming Spirit of the Apollo album is for you. It features guest spots by David Byrne, Tom Waits, M.I.A., Yeah Yeah Yeahs' Karen O and Nick Zinner, the RZA ("Kill Bill 2"), Seu Jorge (the David Bowie covers from 'The Life Aquatic') the late Ol' Dirty Bastard, John Frusciante (songs for "The Brown Bunny"), Fatlip and Slim Kid Tre from the Pharcyde, Public Enemy's Chuck D and about three thousand other name artists.

Spiegel first made a name for himself when he and Karen O wrote the "Hello Tomorrow" song for an award-winning Spike Jonze-directed Adidas commercial that became rather popular. He also recorded her long overdue solo album which he insists will come out... eventually. "Whenever I talk about it she wants to kill me. She put a hit out on me once. And I begged her to take it off," he told RS. Spiegel also contributed a song to last year's undervalued misfit artists documentary, "Beautiful Losers."

The film "Nailed" had an extremely troubled birth, production shut down four times during shooting (at least) due to financing and at least one actor (James Caan) walked off set never to return and yet the movie still managed to limp and cross over the finish line. Whether there are funds for editing the actual picture is another story though.