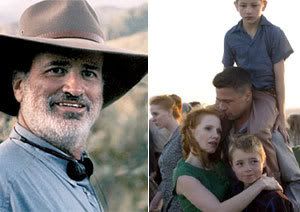 There goes AICN burying the lede again. Yeah, it's cool and super interesting that legendary special effects Douglas Trumbull ("2001: A Space Odyssey," "Close Encounters of the Third Kind," "Blade Runner") is working on Terrence Malick's "The Tree Of Life," but don't you think that news that the picture is now two films, slightly bigger?

Yes, that the word according to the aforementioned fanboy site, 'Tree Of Life' has expanded (always was?) into two separate pictures.

Apparently one will be the regular "Tree of Life" drama which they call, "massive" and then they'll be an IMAX-only half "depicting the birth and death of the universe."

Sounds like Malick's ponderous and navel gazing tendencies will finally get their own movie.

"It's important to note that these films are not narratively connected; to the best of my knowledge, they're thematically complementary pieces," write AICN. So what's the special effects wizard Trumbull doing? Working on those dinosaurs that will hopefully only appear in the panoramic IMAX version. Well that would make sense now would it? Cinephiles just brought the yellow alert down to a basic calm, blue. Brad Pitt and Sean Penn (hopefully) won't be running around with dinosaurs in a Terrence Malick movie. Whew!

Update: here's what VFX artist Mike Fink said originally, but now in full via Empire. Wait, no there's 3 films??

"We're just starting work on a project for

Terrence Malick

,

which is actually 3 films

. There's going to be a 35mm release, a shorter IMAX version, and then they're talking about another shorter 35mm version which isn't quite the Imax version but not the feature length one either. We're animating dinosaurs,

but it's not

'

Jurassic Park

.' The attempt is to treat it as if somehow a camera wound up in the middle of these periods when dinosaurs roamed the earth and creatures first started to emerge from the sea onto the land. The first mammals appearing. We're doing a number of creatures all seriously scientifically based. I think when it's finished it'll be something that's referred to for years."
BTW

, in case you forgot, "

The Curious Case of Benjamin Button

" composer Alexandre

Desplat

is writing the music for 'Tree Of Life,' which is pretty fantastic news.