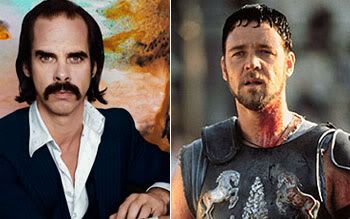 File under: Did you know? 
Apparently after the success of "

Gladiator

,"

Russell

Crowe

commissioned goth rocker and fellow Australian 

Nick Cave

to pen a sequel to the film.

If you're surprised remember that Cave is no dilettante or stranger to film work, and we don't mean just writing scores. As far back as 1989's

Wim

Wenders

' classic, "

Wings of Desire

" he was composing soundtrack songs (and his band the

Bad Seeds

cameo-ed in the film) and his work extends far beyond just music having written the screenplays to "

The Proposition

," "

Ghosts... of the Civil Dead

," and the upcoming, "

Death Of A Ladies Man

," all for Aussie director John

Hillcoat

who is directing the upcoming anticipated 2009 film, "

The Road

" starring

Viggo

Mortensen

(and naturally, Cave and his recent partner

Warren Ellis

are writing what's sure to be another haunting and elegiac score).

Back to "Gladiator." Didn't

Crowe's

Maximus

character

die

at the end of the film? (with apologies to those that haven't seen the 2000

Academy Award

Best Picture winner, get with it already) At the end of the film,

Crowe's

Roman warrior character

did

wander into the afterlife to his family in the distance, but this sequel was evidently using reincarnation to bring him back.

According to a user on

Metafilter

, "the resulting script [penned by Cave] included the reincarnation of

Maximus

as the eternal warrior, the betrayal of Hephaestus , the sickness unto death of the Roman gods, the

martyrdoms

of St.

Irenaeus

of Lyon and St.

Cassian

of

Imola

, the persecution of Emperor

Decius

, the Crusades, and

the Vietnam war; it ended in the men's bathroom at the Pentagon

."



Uhh

, Jesus, seriously?

The script was apparently, though not too surprisingly, rejected by the studios. Here's a review of the script from 2008 and yes, while this is old news to some, it's surely new information to many (including us, though we vaguely remember something about

Ridley

Scott talking about it once; in fact here's a brief mention). Either way, it's a fun daily diversion to be sure. The first nutshell line of the review is, "One of the most amazing, out-of-left-field screenplays I have ever read." Ha.

Some of it apparently works, "After being prepared to write this off as some sort of misguided oddity, I'm surprised to say this is an absolutely exceptional script," wrote

GoneElsewhere

.

And apparently lots of it doesn't. "The script renders most of the original film moot.

Maximus

' struggles, quest for vengeance and ultimate (if hollow) victory were for nothing. It's an Alien 3

redux

. The idea of

JUBA

digging up the "graves" of

Maximus

' wife and child seems to be a (deliberate?) metaphor for the sequel. The poignancy of the original's ending is essentially desecrated."
Heh

, read the whole thing, it's a hoot.