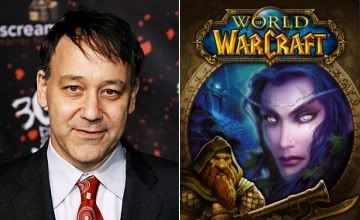 Where do we even start with this one? Wow, what!? Has Sam Raimi given up or is that we've now officially given up on him?

The filmmaker, adored for his inventive and and bloody, "Evil Dead" serious (but seriously, what have you done for us lately?*) has signed on to helm the live-action adaptation of the popular action-fantasy MMORPG video game "World Of Warcraft." The director will supervise development of "Warcraft" and shoot the picture after he completes work on "Spider-Man 4," which begins February next year.

The film will center on the epic conflict between the Horde and the Alliance (translation anyone? It sort of looks like "Lord Of The Rings," with crazy futuristic weapons and that gauzy, fey "Final Fantasy" look that some games are so found of). Raimi further noted: "At its core, 'Warcraft' is a fantastic, action-packed story." Wow, so what you're saying is that there's a lot of depth there, huh?

The project will see Raimi team with producer Charles Roven whose name is constantly brought back to his involvement with "Batman Begins" and "The Dark Knight" as if that mean something about his other projects. Inspired move? Or the final straw that puts Raimi directly into the, "we no longer care" territory? Nerds and man-childs will surely rejoice at this news, but the "Spider-Man," films were already becoming increasingly soulless, gimmicky video games more concerned with impressing you by zipping around the city via web slinging than telling an actual story we were hoping for something much more. Wake us when this guy attempts to make a serious picture again.

*The antiquated sitcom horror, "Drag Me To Hell," doesn't count.