James McTeigue unnecessarily decided to play it coy when recently asked about "Superman", seemingly admitting that he's in contention to helm a reboot: "You know… I… I would say… I'll keep you guessing, actually. It's good not to dispel every rumor, right?" Not a bad choice but not a great one either. [FirstShowing]

Lucy Punch, who recently replaced Nicole Kidman in Woody Allen's Untitled London Project, has joined the cast of "Dinner For Schmucks" which has Jay Roach attached to helm and Steve Carrell and Paul Rudd to star. The film reportedly follows the most pathetic guy ever to be invited to another man's weekly dinner party. [THR]

John Oliver and Rory Albanese of Comedy Central's "The Daily Show With Jon Stewart" have signed a blind script deal with Paramount which means the studio won't look at anything until final scripts are handed in. Sounds pretty risky but these guys do great work. [THR]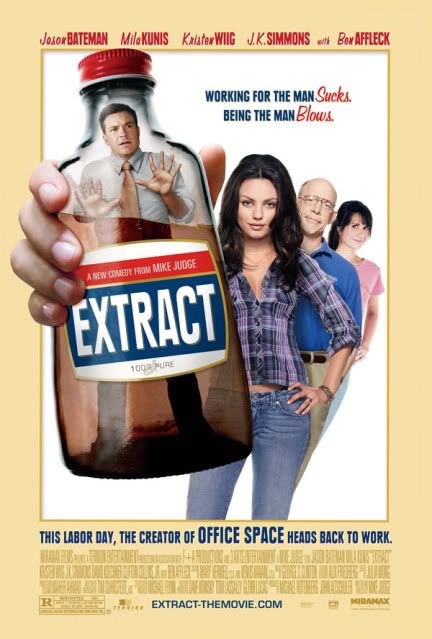 Mike Judge's "Extract" has a new Photoshop-heavy poster. That hand doesn't even look remotely like it's coming from Mila Kunis' body there. [Collider]

Could "G.I. Joe: The Rise Of Cobra" be an award season contender? For the infamous Razzie awards that is. Reports are the film is being put under the microscope on account of its pedigree. Based on action figures with a budget of $175 million. [L.A. Times]

Rain, the Korean pop star turned Hollywood actor who struggled to read lines in "Speed Racer" and probably in "Ninja Assassin" as well, may continue to hide his deficiencies by starring in a rumored remake of Bruce Lee's classic "Enter The Dragon." [LatinoReview]

Second City will celebrate its 50th anniversary with a series of events that reunite a number of alumni showcasing popular sketches and characters. The reunion will feature Joe Flaherty, Eugene Levy, Andrea Martin, Catherine O'Hara, Harold Ramis, Martin Short and Dave Thomas plus special guests. [THR]

A red-band trailer for "Zombieland" has debuted and looks like all sorts of fun.