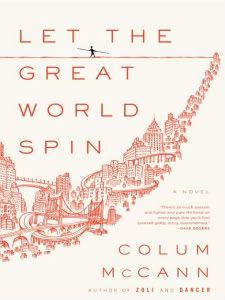 Even though he kicked off his career with the scripts for dramas "Regarding Henry" and "Forever Young," and for the college-set TV series "Felicity," writer-director-producer J.J. Abrams has become best known for his genre work - from sci-fi tinged spy stories like "Alias" and "Mission Impossible 3" to reinventing well-worn sci-fi tropes in "Cloverfield" and "Star Trek." But he may be returning to the real world for an adaptation of the National Book Award-winning novel "Let The Great World Spin."

The novel, from Irish-born writer Colum McCann, follows a series of ensemble character, including an Irish monk in the Bronx, a grandmother, and a group of mothers grieving their sons, who died in Vietnam, against the background of Philippe Petit's wire-walk between the towers of the World Trade Center (as immortalized in last year's amazing documentary "Man on Wire."). McCann (who adapted his own short story into the Oscar-nominated short "Everything in This Country Must") will write the script, and Abrams is currently attached to produce the film, for his Bad Robot production company.

The book is, by all accounts, pretty great, and it sounds like it could make a decent film (we'd rather see Petit's achievement told in this way than in the mooted big-budget "Man on Wire" remake), even if this kind of ensemble drama can be tricky to pull off. Abrams isn't set to direct this, but it's not outside the realm of possibility - the "Star Trek" sequel's been delayed until Summer 2012, so if McCann's script comes together in good time, maybe Abrams will try and sneak it in, although if we were betting men (and we're not anymore, at least not since the nice men from New Jersey came and broke our thumbs) we imagine it will be passed off to someone else.