Demetri Martin is a very funny man, and his Comedy Central show is going great guns, but his film career's got off to a rather inauspicious start - he was very good in "Taking Woodstock," but the film was a critical and commercial failure, and his key role in Steven Soderbergh's "Moneyball" was scuppered when the film fell apart at the eleventh hour. Things are looking up, however - a script, entitled "Will," written by Martin and sold to Dreamworks almost four years ago is finally set to go before the cameras, with an impressive roster of talent on board.

"Will" follows a man (cunningly named Will) living in a world without free-will, where every moment of your life is written by angelic scribes. Aimsley, who is writing Will's life, forgets to complete it past the age of 34, Will suddenly gains complete freedom from his destiny. On the page, it sounds a little high-concept, a little too "The Invention of Lying," but we've read a draft of the script, and, as you'd expect from Martin, it's very smart, and, in places, very funny, although the pacing seems a little languid to us. It's nothing a punch-up won't solve, though.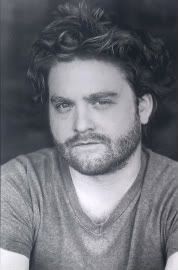 The script'll be directed by Valerie Faris and Jonathan Dayton, who were behind the Oscar-nominated sleeper hit "Little Miss Sunshine," and surprisingly have yet to follow it up, but this seems like a perfect match for them. Paul Rudd will put on his everyman hat to play Will, while the ridiculously busy Zach Galifianakis, who has three movies due for release this year, plus a second series of HBO's "Bored to Death" on its way, will play Aimsley (a part we'd figured Martin would play when we read it, but it'll be a good opportunity for the comedian to get some distance from the idiot savant roles he seems to be getting so far). Rudd and Galifianakis are also currently filming the forthcoming comedy "Dinner For Schmucks" and their pairing here must mean they've been getting along smashingly.

Will Ferrell and Adam McKay are producing through their Gary Sanchez label, so there's a very impressive comedy pedigree at work here. So long as they can sort out the fairly minor script issues, this should definitely be one to watch. There's no word on a start date, but neither actor has anything lined up immediately, so there's no reason this couldn't be in theaters as soon as next summer.