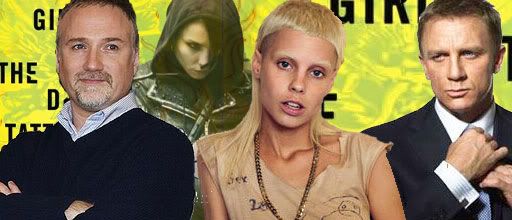 With Daniel Craig all-but-officially-announced for the lead role in David Fincher's adaptation of the Stieg Larsson best-seller "The Girl With The Dragon Tattoo," attentions are moving on to the film's other lead, the character of teen hacker Lisbeth Salander, one of the most hotly sought-after roles in recent years. Carey Mulligan has been campaigning for the role, with "mutual admiration" being expressed by both parties, and names like Ellen Page, Kristen Stewart, Mia Wasikowska, Natalie Portman, Keira Knightley, Anne Hathaway, Olivia Thirlby and Scarlett Johansson have all been mentioned.

The pack thinned slightly when Stewart ruled herself out earlier in the week, citing her commitment to "On The Road" and "Breaking Dawn," but now a new, fairly unlikely candidate has emerged. Fincher's long been keen on the idea of casting a relative unknown in the role, and Vulture are reporting that Yo-Landi Vi$$er, a member of the South African rap group Die Antwoord has caught Fincher's attention.

The band, who may or not be an elaborate performance art project, broke after some of their videos hit the web earlier in the year, leading to a huge viral success, with the group being booked for Coachella and heading out on a world tour. The band are also rumored to be working with fellow South African Neill Blomkamp ("District 9") on a video. According to Vulture, Fincher's seen their clips, and has decided that the band's pint-size rapper Vi$$er is "exactly who he wants his Salander to look and act like." She's certainly a good fit visually, and there's a level of performance in the videos (you can see one below) that suggest she might be able to act.

Vulture were unclear if Vi$$er is in the running for the role, or was simply being used as a model, but we reached out to sources on the project. They confirmed that Vi$$er's name has indeed come up, but that she is just one of many people vying for the part. But even if Vi$$er doesn't land the role, it's not the end of the world; she's supposedly had interest from other studios as a result of the attention. At least it's not Ke$ha, we suppose...