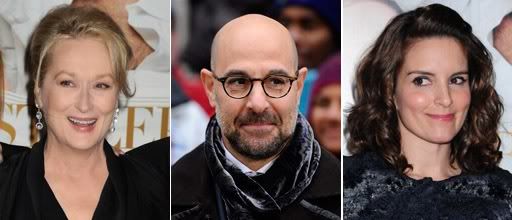 Just a couple of weeks ago it was reported that CAA were shopping a package around town for a comedy entitled "Mommy & Me," that would see Stanley Tucci direct Meryl Streep and Tina Fey in a comedy/drama focusing on a mother/daughter relationship. It was a powder keg of star power and talent so it's no surprise that before July is out, it has found a home.

Sony has picked up the film, and details are still being kept under wraps. Joby Harold (the terrible medical thriller "Awake") wrote the treatment, but given the talent involved, the scripting duties will probably fall to some seasoned, respected names.

Tucci has previously worked opposite Streep in "The Devil Wears Prada" and "Julie & Julia" and while he's set to direct, it's unknown if he take a role in the film as well. No production timetables have been set, but expect the wheels on this one to movie quickly.