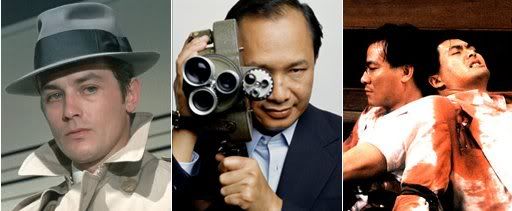 For a while, it seemed like the door that was once wide open to Hollywood for John Woo quickly closed following a string of poorly received films. But it's hard to keep to a good director down and following his well regarded four-and-a-half-hour epic "Red Cliff," Hollywood is knocking once again.

Next spring, Woo will team with IMAX on his $90 million WWII project "Flying Tigers," which will tells the story of a volunteer fighter squadron assembled to help the Chinese fight the Japanese before the U.S.'s involvement in the war. But, that's not all the director has on his plate.

Speaking with Variety, Woo reveals that he has two English-language remakes in mind that he hopes he can get rolling with an A-list cast. One is Jean-Pierre Melville's iconic and influential (see our review of "The American") "Le Samourai," a methodical, samurai-coded assassin tale. Melville is a huge influence on Woo who had at one time been circling a remake of "Le Cercle Rouge" (that film now has John Hillcoat attached). It's not the first time he's mentioned remaking the film, and while it remains to be seen if he can get it off the ground, it does still seem to be a project he wants to make.

Another film Woo wants to remake is his own "The Killer," a project that has been attached to other directors over the years (Walter Hill and John H. Lee in particular). We wonder if this might just be a case of crossed wires as in the past, Woo has also talked of remaking Sam Peckinpah's "The Killer Elite."

In any event, he's clearly a director of many interests who is constantly seeking new avenues to explore, even though he seems stuck in the action genre saying, "Once I was established as an action director, it wasn't so easy to get a chance to make anything different."

No surprise then that he has expressed an interest in everything from art-house fare such as a the now-shelved project about "young kids running wild in Brooklyn" that would've been produced by Martin Scorsese to nearly directing "The Phantom Of The Opera" (the producers balked when Woo wanted to alter some of Andrew Lloyd Webber's tunes). The latter project proving our posit that any director worth his salt eventually wants to climb one of the most difficult of cinematic mountains: The Musical (hell, just ask Edgar Wright).

Obviously, Woo is a director constantly striving for new horizons and challenges; moving from an epic period piece to a WWII flight squad picture. While we have mixed feelings on remakes, we do hope to report one day that he's doing a low budget art-house picture. The man certainly has one helluva an eye and we'd love to see him work in a lower-key arena; the results would certainly be fascinating.