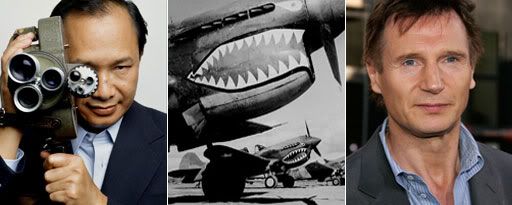 In late 2009, Hong Kong action auteur John Woo confirmed he'd be returning to Hollywood for "Flying Tigers," a Christopher McQuarrie-scripted WWII flick that told the story of a volunteer fighter squadron assembled to help the Chinese fight the Japanese before the U.S.'s involvement in WWII.

At one point Tom Cruise's name was batted around as being attached the project, presumably in the role of Lieutenant General Claire Lee Chennault who commanded the flyers, but nothing formal ever came to pass.

Woo tells THR today that he now wants Liam Neeson for the role, though nothing seems to be set in stone. "It's got to be a star but it's hard to find the right one, because at that time Chennault was almost 50 years old. Ideally, I've been thinking of Liam Neeson as the title actor," he told the trade. Woo also wants Liu Ye ("City of Life And Death") to co-star. And while McQuarrie is obviously a top screenwriting name, Woo is apparently now co-writing the film with L.A. screenwriter Chris Chow ("Fearless").

Perhaps more importantly, the film will be assisted (and possibly co-produced) by CAA and the IMAX company. Moreover, it may even be shot in IMAX too, though it's hard to make heads or tails of THR's convoluted piece, which basically says CAA and IMAX will work with Woo to "supersize" the film and help secure U.S. funding. But overall, the reporting therein is somewhat unclear. What we do know for sure is that the film will have a whopping $90 million budget and is due to go into pre-production in China in September and shoot next spring for a late 2011 release.

Woo recently finished "Reign of Assassins," which he co-directed alongside Su Chao-Pin and starred Michelle Yeoh and Jung Woo-Sung ("The Good, The Bad & The Weird)." That pic received a limited release earlier this year. His "Red Cliff" opus -- 280 minutes long in its original Chinese version -- finally saw release in the fall of last year, though it had come out in China in 2008.