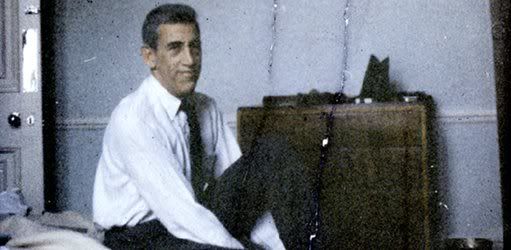 As we previously reported, writer Shane Salerno ("Armageddon," "Shaft," "Alien vs. Predator: Requiem") has been working on and completed a feature documentary based on Salinger: A Biography by Paul Alexander. Using millions of his own dollars, hiring longtime Ken Burns cinematographer Buddy Squires to lens the picture and digging deep into the life of the reclusive author, he uncovered enough material that a 700-page companion book, The Private War of J. D. Salinger, co-authored by David Shields is coming as well.

While the film is still a ways off, Salerno has released a teaser of sorts, providing a never-before-seen picture of the author to Newsweek. Keeping things cryptic, Salerno won't reveal the story behind the photo just yet, but he does promise that the forthcoming book boasts "a variety of first-evers in addition to the photo collection, including interviews with Salinger intimates and former New Yorker colleagues, some of whom had never spoken about 'Jerry,'" and says that "You're going to see a very different Salinger than you've read about for five decades."

The confirmed interview subjects for the film currently include Philip Seymour Hoffman, Edward Norton, John Cusack, Danny DeVito, John Guare, Martin Sheen, David Milch, Robert Towne, Tom Wolfe, E.L. Doctorow, A. Scott Berg, Elizabeth Frank and Gore Vidal, and the documentary will take the interesting approach of forgoing traditional narration.

We are definitely intrigued by Salerno's project as it concerns an author whose work continues to be hugely influential, and Salerno promises it "will substantially rewrite the record of J. D. Salinger's life, and correct many inaccurate stories that have been told for decades." We are anxious to get close to the truth behind the man that has existed largely in myth.